As beautiful as boots are, it often becomes problematic when buying them.
We all know this: after days of rummaging in stores, online shops and many different pairs of boots that we put on our imaginary wishlist, we finally decided on one pair. And we know: it is that special one! The boots which managed to stand out from many ones that were on the wishlist. But when we think of this particular pair, joy is not the only thing that guides our thoughts. We also have expectations.
Of course we want the boots to fit well. They only fulfill their purpose if they are cozy and can be worn comfortably for several hours. The foot should not be crushed, nor can it slide back or forth in the shoe. Until this point boots are the same as any other of the millions of pairs of shoes in the world. And that's why there are shoe sizes. It becomes problematic for us men if we have to search in the women's department again because there are simply hardly any high boots on offer for men. This is because the majority of boots are ending there at shoe size EU 42 / UK 8 / US 10.5, with a huge part even ending at shoe size EU 41 / UK 7.5 / US 10. But that's another topic.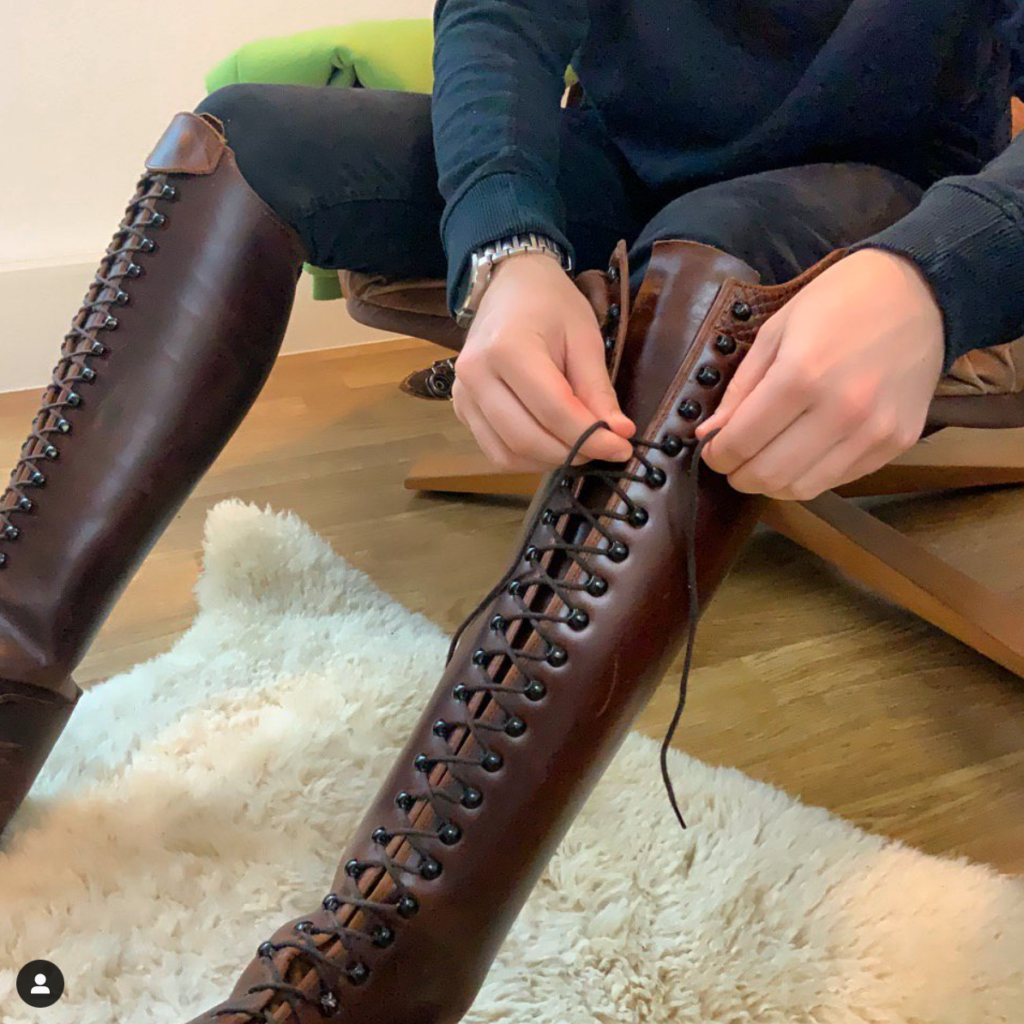 Boots are special because our expectations don't just have to be met in the foot area. Two other factors are also important: the shaft height and the shaft width. Too many people ignore the shaft width, which can be a big mistake. Usually boots are close to the leg, which is why it is important that the shaft width is only slightly wider than your own leg. Everything has to be right here. In times of industrial mass production of shoes, however, many people accept that the shaft width is not fitting quite right, especially in the cheap range. The result: bruised legs with no way to breathe and tortured boots with zippers that can't even be closed completely – or the opposite and usually much worse: boots that are much wider than the leg and so wiggle back and forth while moving.
If we pay attention to current boot fashion, then the importance of the shaft width is currently a little in the background. This is due to the at the moment very popular "slouchy boots". Boots that have a particularly loose shaft and shouldn't be tight at all. In times of oversize this is of course the perfect trend. But there is a big difference: these boots should fit relaxed – and you can see that too. However, if you wear boots that are way too wide and should fit tight, then it looks like you're wearing really worn and cheap rubber boots. Unfortunately, slouchy boots are often very feminine and therefore, in my opinion, very difficult or even impossible to combine for men. Can you agree in this? Have you tried to wear slouchy boots as a man?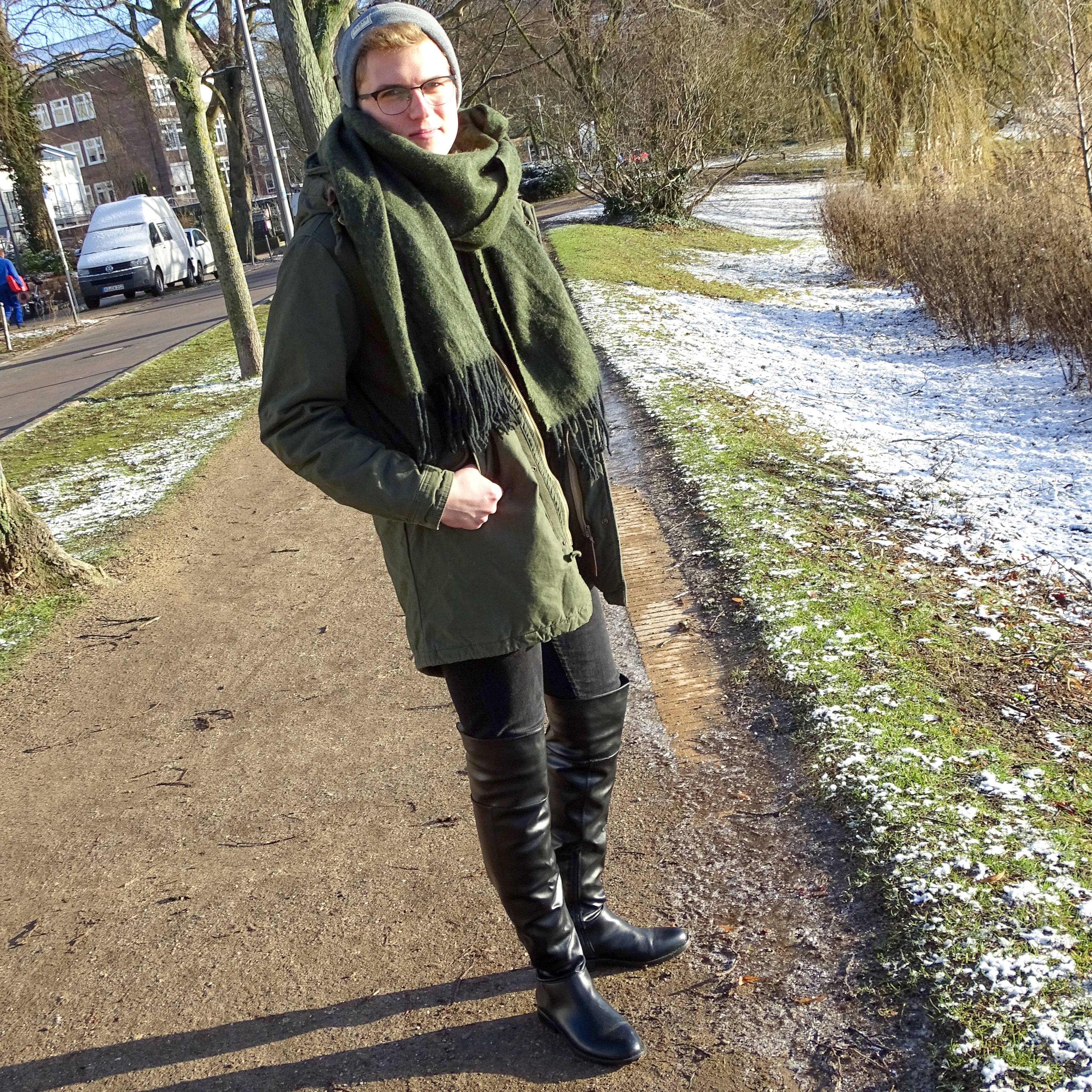 The shaft height is a smaller problem in comparison. Nowadays it is actually normal to be able to wear all possible shaft heights.. You just have to be careful that the shaft height matches the rest of the outfit. The longer the shaft, the longer the legs look and this has to be reflected in the other clothes you are wearing. What I noticed is, that an extra-long sweater combines great with overknees or very high knee-high boots. Regular sweaters also work well with lower boots.
We men have to be careful not to fall into these traps. For us, the fit of a boot simply has to be perfect. And that's not just because we want to look good. Let's not kid ourselves: we have to look good with boots and to combine perfect outfits with them. Because when we get noticed with our boots outside, our goal is to get a positive impression and people say: yes, that's unusual, but it looks great! A lot more men should choose to want to wear tall boots – and not think: oh god, this outfit doesn't matches at all and the boots also have a bad fit.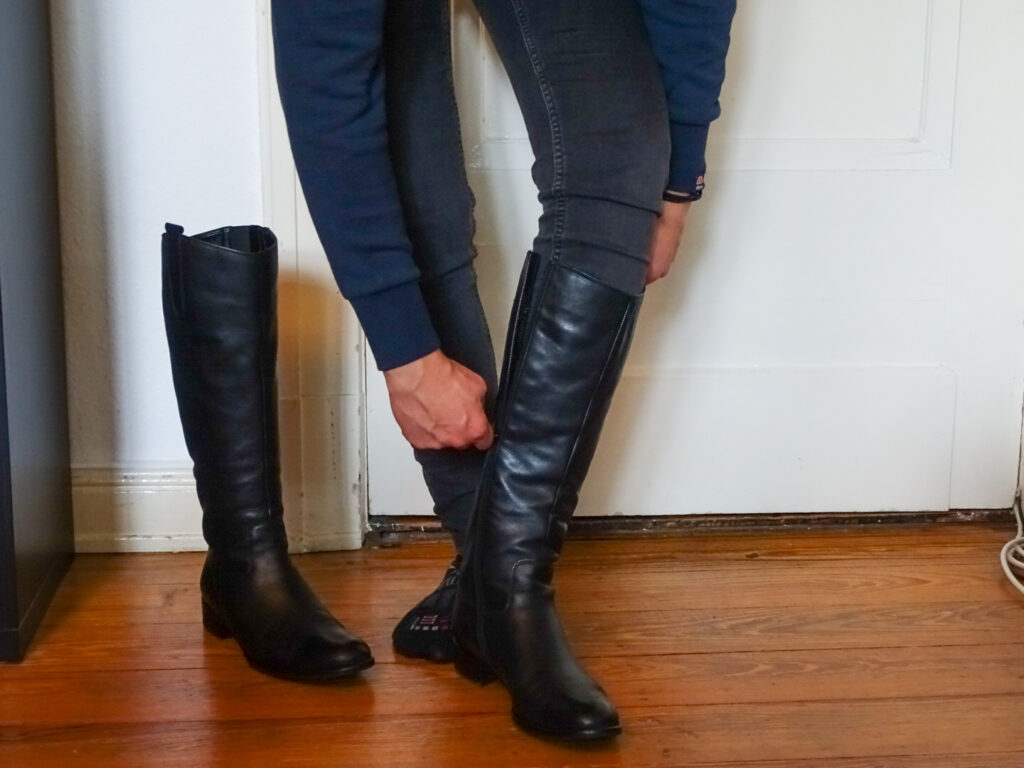 And now we stand in front of our freshly bought pair of boots. We pull the box close to us and finally open it. The wonderful smell of new shoes reaches our nose and the heart begins to beat faster. We carefully put the protective paper aside and take a look at our new treasure for the first time. But first doubts reach us: the shaft really looks wide at the upper end. Suddenly we quickly tear the shoes out of the box, remove all the material, open the zipper and slip inside. Yes, our feet fit just fine, but that's the minor problem. We gently close the zipper again and take the first steps. The joy is there: the shaft also fits wonderfully and hugs our legs gently.